HIVMA has recognized outstanding contributions to the field of HIV medicine with 2018 Awards for excellence in Clinical Education to Dr. Rajesh T. Gandhi and excellence in HIV research to Dr. Lisa B. Hightow-Weidman. The awards, presented on Oct. 3 and Oct. 4 during IDWeek in San Francisco honored leaders who are advancing HIV care, clinical education and research.
HIVMA Clinical Educator Award: Rajesh T. Gandhi, MD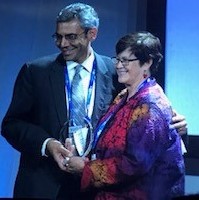 Dr. Gandhi was recognized for his significant contributions to improving HIV clinical education and care through his leadership in developing programs that include the HIV Online Provider Education (HOPE) program. The HOPE program, which offers online teaching sessions on diverse aspects of HIV care and research is accessed by health-care providers at more than 50 sites around the world and the Partners Infectious Disease Images, maintained through a partnership with the National Library of Medicine.
Dr. Gandhi is a Professor of Medicine at Harvard Medical School, and the Director of HIV Clinical Services and Education at Massachusetts General Hospital (MGH). Dr. Gandhi is the site leader of the MGH AIDS Clinical Research Site in the Harvard/Miriam AIDS Clinical Trials Unit and chair of the AIDS Clinical Trials Group (ACTG) HIV Reservoirs and Eradication Transformative Science Group. He is also the Director of the Harvard University Center for AIDS Research Clinical Core (CFAR). He is also a Deputy Editor of NEJM Journal Watch Infectious Diseases and NEJM Journal Watch HIV/AIDS. Dr. Gandhi is a scientific member of the Department of Health and Human Services Panel on Antiretroviral Guidelines for Adults and Adolescents, and the International Antiviral Society-USA Panel on Antiretroviral Drugs for Treatment and Prevention of HIV in Adults. Dr. Gandhi graduated from Harvard Medical School, completed his medical residency and chief residency at Brigham and Women's Hospital, and his infectious diseases fellowship training at Johns Hopkins Hospital.
HIVMA Research Award: Lisa B. Hightow-Weidman, MD, MPH
Dr. Hightow-Weidman, MD, MPH was recognized for her innovative research on the use of technology-based interventions to address uptake and adherence to biomedical interventions along the HIV prevention and treatment continuum to reduce disparities and improve health outcomes for youth with a focus on young black men who have sex with men.
She is an Associate Professor of Medicine in the Departments of Infectious Diseases and Health Behavior, University of North Carolina-Chapel Hill. Dr. Hightow-Weidman completed her medical school training at the University of Virginia and became board certified in Internal Medicine in 2001 after completing three years residency training at Stanford University. She completed three years of fellowship training in Infectious Diseases at UNC-Chapel Hill. In 2004, she earned a Masters in Public Health in Epidemiology from the UNC-Chapel Hill School of Public Health. Dr. Hightow-Weidman is an expert on mHealth, social media and utilization and evaluation of technology-based interventions to address the HIV Care Continuum for youth and young adults, particularly among young men who have sex with men (YMSM). She has published over 90 peer-reviewed articles on these topics. Her research interests include HIV prevention for YMSM using both the Internet and other mobile technologies, and interventions that incorporate game-based elements and social networking to change behaviors. She has developed technology-based interventions to address uptake and adherence to biomedical HIV prevention and treatment, as well as to increase HIV diagnosis, linkage and retention in care for YMSM. She is the PI of iTech, The UNC/Emory Center for Innovative Technology Across the Prevention and Care Continuum. This grant, part of the Adolescent Trials Network for HIV Interventions (ATN), seeks to develop a technology center to address the domestic epidemic of HIV among at risk and youth with HIV.